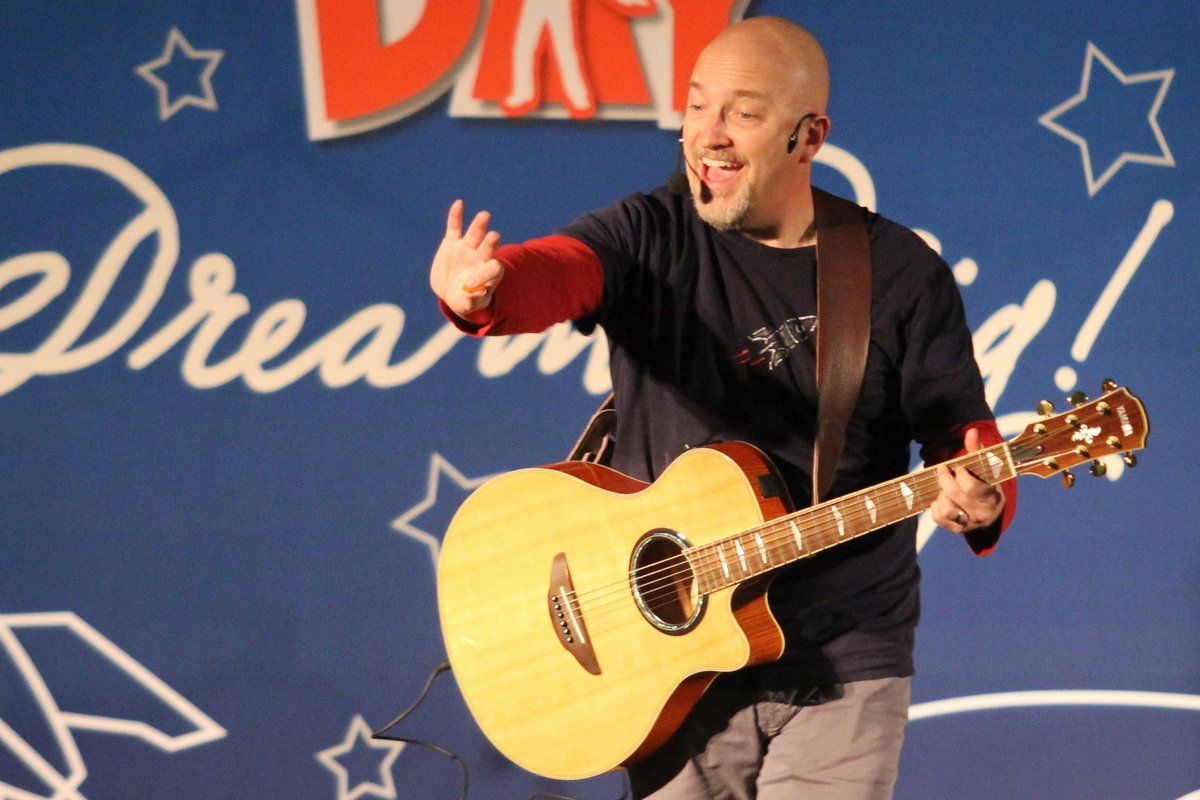 The Dirty Sock Funtime Band
Voted the BEST KIDS BAND by the readers of TIME OUT NY KIDS, they're "infectious", they're "irresistible," they're the DIRTY SOCK FUNTIME BAND, the highest energy kids' rock band ever to break out of NYC!!! Featured on NOGGINs JACKS BIG MUSIC SHOW with the hit songs 'Dino-Soaring' and 'Music Everywhere', the Dirty Socks rock in all kinds of musical styles and play some of the most innovative and exciting children's music ever! (MTV) "Find out why kids, parents and critics alike are falling in love with the first real rock band for Kids" (Fox News)
The Dirty Sock Funtime Band Official Webpage
Billy Jonas
Billy Jonas' music is percussion-based, making use of found objects (buckets, broom handles, bottles, key chains and more) as well as traditional instruments. Billy Jonas' recordings and live concerts across the US and Canada have generated an enthusiastic following. His CD "What Kind of Cat are You?!" received multiple awards including a First Place/Gold from AFIM (American Federation of Independent Musicians), and a Parent's Choice Gold. Jonas' videos have garnered critical acclaim, including Parents Choice Awards and a New York Times "Best" listing.

We are pleased to support Billy Jonas and boost his social media presence, fan bases, and promote performances. We are working on building a consistent branding image across all of his viral assets.
Billy Jonas and The Billy Jonas Band Official Webpage
Call Me A Nerd
Jonathan Grossman is an award-winning composer and performer. Since his graduation with a B.A. in Music from Cornell University in 1991, he has dedicated his life to music both as an indy recording artist with his band, Dogwood Moon and as a television composer, Joan of Arcadia (CBS). Call Me A Nerd is his first children's music record and the start of the Call Me A Nerd Project which will expand to in-school seminars and children's animated programming.

Willie Aron is an award-winning film and television composer, singer, songwriter, multi-instrumentalist, and record producer. His score for the independent film The Curiosity Of Chance won Best Musical Score at the 2007 Nashville Film Festival. Aron has performed and recorded with acclaimed artists such as Phoebe Snow, Rickie Lee Jones, Van Dyke Parks, and Peter Himmelman. In 2007, he and Himmelman co-produced a children's album, My Green Kite, which was nominated for a Grammy Award for Best Children's Album of 2007.

He wants to help instill self-confidence and leadership in children at the very age when they are establishing their social position in the world around them.
Call Me A Nerd Official Webpage
The Happy Racers
Twenty years in music and my growing career have all been built on the same idea: if you follow what you feel, success will follow. I began playing clubs and bars when I was 16 and have since toured all over the world as an artist, including the U.S., Europe, Canada, Puerto Rico, Honduras and Israel. Many of my songs have been recorded by other bands/artist and as a producer/writer/artist, I've created songs for movies and a wide range of television networks including MTV, CBS, Oxygen, E! and ABC. Now the proud father of two children (Sofia and Cohen), I can add one more achievement to the growing list – lead singer of an alternative kids' music band….CHECK.

The concept for this kid-loving project was led by my father, Grammy winning publisher, Mark Meckel. He assembled a talented team of day dreamers and chance takers: award-winning children's author Barbara Joosse; longtime friend and twice nominated Grammy songwriter, Burton Collins; New York Times best-selling children's author Peter Reynolds and myself at the creative helm as the producer. "Lovabye Dragon", "Hip Hooray Parade" and "Doghouse Jamboree" have been paired with new children's picture books authored by Joosse. The books and the songs reaffirm one another. The books become illustrated version of the songs, while the songs become audio versions of the books.
The Happy Racers Official Webpage
Bari Koral
Dubbed the "'IT girl' in kids/family music" by NY Magazine and the "Sheryl Crow for kids" by the NY Post, Bari's songs are a huge hit with children and adults. Her catchy, pop friendly tunes, interactive live shows & heavy rotation radio play have gained the band literally thousands of young (and not so young!) fans. Their debut full length album Rock and Roll Garden won the Nappa Gold and Parents' Choice Award and was picked as top 10 kids album of the year by Time Out Kids.

On her new album Anna and the Cupcakes, Bari and band deliver 10 songs of infectious melodies that range stylistically from roots pop-rockers to blues to country-tinged kickers. On Anna, Koral serves up a tasty selection of songs & music and movement, including the title track about disappearing cupcakes, a scampering gingerbread man, ("Gingerbread Man"), a zooming rocket ship ("Rocket Ship"), and the poppy/happy cover of the folk-rock band the Avett Brothers' "Kick Drum Heart," among others.
Bari Koral Family Rock Band Official Webpage
Vanessa Trien and the Jumping Monkeys
"Big news of the day: We were just informed this week that we are mentioned in the October issue of Parenting Magazine!!! The most mind-boggling quote that makes me laugh heartily: "If you like Katy Perry, then you will like Vanessa Trien and the Jumping Monkeys." I've never quite made that connection before, but so be it! : ). We are also super excited that we won a Parents' Choice Silver award as well"

Vanessa Trien, who holds a master's degree in education from Harvard University, taught music at the Cambridge Montessori School, and is currently teaching "Music Together" classes in Brookline and Boston.
Vanessa Trien and the Jumping Monkeys Official Webpage
Roger Day
What does a former camp counselor who studied German and spent ten years playing college coffeehouses do with his life? Write and sing award-winning children's music, of course. A Parents' Choice® Gold Award winner, he's worked with artists such as the Indigo Girls, Nanci Griffith and The Crickets (Buddy Holly's legendary band). Roger's skilled musicianship combines with his wit and wordplay to create a musical experience that parents enjoy as much as their kids.

We assisted Roger Day with viral marketing in order to grow his fanbase to a national, rather than regional, following. We maintained his Facebook site, attracted fans with CD Giveaways and event news, and used viral strategies to get his music heard.
Beethoven's Wig
Beethoven's Wig, Richard Perlmutter, creates Zany lyrics set to the greatest hits of classical music. He has won a record of 40 national awards, including 3 Grammy Award nominations.

"His songs are funny, but Perlmutter is not just a highbrow "Weird Al" Yankovic. The lyrics are hummable mnemonics, each imparting information about the work or its composer."
- Nicole Arthur, The Washington Post

We provide PR blasts, Viral Marketing, and email list building through his Facebook page as well as website management.
Beethoven's Wig Official Webpage
Ben Rudnick & Friends
Ben Rudnick & Friends have been bringing families, music and fun together in their own unique style from their first release, Emily Songs, in 2000 to their recent A Frog Named Sam. Boasting a high level of adventurous musicianship, their enthusiastic recordings and live performances seamlessly range from light folk, bluegrass, calypso, rock and even Irish Jigs.

"...he and the band are so musically gifted that they almost create their own style of music. "
- Dave Loftin, Chattanooga Parent Paper

We assisted Ben Rudnick and Friends with viral marketing and PR as well as growing their Myspace and Facebook fan bases.
Ben Rudnick & Friends Official Webpage
Over The Moon Broadway Lullaby Project
Over the Moon: The Broadway Lullaby Project is both a timeless benefit effort and a uniquely compelling, multimedia experience. The ambitious project — which incorporates a 2-CD, 26-song set; a lavishly-illustrated hardcover book of 17 songs from the album; a corresponding e-book encompassing the entire collection; and a documentary film and web series — gathers many of contemporary musical theatre's greatest composers and vocalists, as well as illustrators, all of whom have donated their talent to deliver an emotionally affecting set of new lullabies, some written specifically for this project.

This collection puts a fresh spin on the classic lullaby form, creating a warmly expressive song cycle that will touch listeners of all ages, while raising funds for respected breast cancer charities, The Breast Cancer Research Foundation and Young Survival Coalition. The book features 17 songs from the album, with the lyrics illustrated by some of America's most esteemed theatrical designers and children's book illustrators, each offering a memorable visual interpretation of a song from the CD bound in the book. The e-book includes illustrations for all 26 songs.

Over the Moon: The Broadway Lullaby Project's roster of world-class vocalists features some of Broadway's most respected and popular performers and friends, including Anastasia Barzee, Stephanie Bast, Michael Cerveris, Walter Charles, Victoria Clark, Jed Cohen, Janet Dacal, Kate Dawson, Raul Esparza, Sutton Foster, Keegan, Tillie and Zi Glucksman, Marva Hicks, Dana Ivey, Brian d'Arcy James, Nikki M. James, Marc Kudisch, Judy Kuhn, Rebecca Luker, Luke Kolbe Mannikus, Audra McDonald, Donna Murphy, Christiane Noll, Kelli O'Hara, Laura Osnes, Anika Noni Rose, Caesar Samayoa, Will Swenson, and Vanessa Williams.
Over The Moon Broadway Lullaby Project Official Webpage
Bill Harley
A two-time Grammy award-winning artist, recipient of the Magic Penny Award from the Children's Music Network and an NPR commentator, Bill's songs and stories paint a vibrant and hilarious picture of growing up, schooling and family life. Home of "Zanzibar", "Monsters In The Bathroom", "50 Ways To Fool Your Mother", "You're In Trouble", "Dad Threw The TV Out The Window", "Down in the Backpack" and "The Ballad of Dirty Joe", Bill's work spans the generation gap. Singer, storyteller, author, playwright, educator, performing artist – welcome to the world of Bill Harley – a world of wit and wisdom.

We assisted Bill with his Facebook and Myspace fan bases, and useed viral marketing strategies to increase his popularity.
Cathy Fink and Marcy Marxer
Grammy winners / Folk musicians / Children's musicians

Cathy Fink & Marcy Marxer are a formidable powerhouse of sound, with a repertoire of traditional and contemporary folk, old-time country and swing music. They have been nominated for a total of ELEVEN Grammy Awards, and won two GRAMMY Awards for BON APPETIT! MUSICAL FOOD FUN and "cELLAbration: A Tribute to Ella Jenkins", in the Best Musical Album for Children category. In 2003, they were nominated for three Grammy awards, including their eclectic CD, "POSTCARDS" in the Best Traditional Folk Album category.

We assisted with Marcy and Cathy's Myspace Management, Design as well as Facebook PR and press release distribution.

"Jaime Campbell Morton is a dynamo in the music industry. She understands the business while delivering personal and personalized solutions to keeping a career moving in the cyberworld. Great service, phenomenal timeliness and great value for the money."
Cathy Fink & Marcy Marxer, Grammy Winners